Friends Athletics
Levi Convirs
WICHITA – The Friends University Falcons picked up their 20th win of the season Saturday in a 75-44 victory over the Southwestern College Lady Moundbuilders inside the Garvey Center.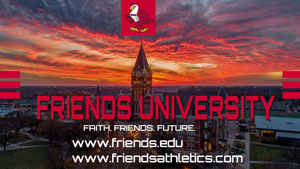 Saturday's victory marks the first 20-win season since the 2017-18 campaign when they won 24 contests.
"Any time you get to 20 wins it's a great season!" head coach Dean Jaderston said. "It's a testament to our team's hard work, unselfishness, and willingness to compete every single night. Tonight we showed how balanced we can be in our offense, and how our defense can take its toll on an opponent over 40 minutes."
The Lady Builders held an early 3-2 edge, but a basket by Alexa Chairs (SR/St. Charles, Mo.) followed by a triple by Hayley Stiger (JR/Mannford, Okla.) sparked an 11-3 burst by the Falcons.
A three by Amanda Graddy late in the first quarter pulled the Lady Builders within 16-15 after ten minutes, but Carrie Lacy (JR/Victoria, Texas) blocked a shot then drilled a three to open the second quarter.
From there, the Falcons used another 11-3 run to grab control with 3:48 remaining in the first half. A pair of free throws by Taylor Jackson (FR/Houston, Texas) started the spurt before Bridget Busbee(JR/Grand Prairie, Texas) drilled a triple. Chairs capped off the run with four straight points that put the Falcons on top 32-20.
The Falcons ballooned their lead to 42-23 at the break, closing out the half on an 11-1 scoring run, then held the Lady Builders to just five third-quarter points.
Friends led by as many as 39 in the fourth quarter en route to their 13th straight victory over the Lady Builders.
Chairs and Jackson led a balanced scoring attack for the Falcons (20-6, 15-5 KCAC) with 14 points apiece, with Chairs leading the way with a game-high four assists and two steals. Jackson pulled down 14 rebounds and swatted four shots. LaShawn Sweet (SR/Omaha, Neb.) added 12 points on 3-for-6 shooting from beyond the arc and grabbed five rebounds.
Denisha Anderson paced the Lady Builders with ten points and three steals, while Shaylynn Choate grabbed ten rebounds.
The Falcons forced Southwestern into 20 turnovers, 13 of which came in the second half, and held a 50-39 rebounding advantage, with a 17-8 edge on the offensive end.
"Now we have to turn our attention to the final 4 games of the regular season," Jaderston said. "We hold our destiny in our own hands. It's easy to look ahead, but we have to be disciplined to prepare one game at a time. It should be a lot of fun and I'm hoping we have a lot of fans out for some tough home games to finish!"
Friends hits the road Wednesday (Feb. 9) for a crucial KCAC showdown against No. 9-ranked Sterling College. The Lady Warriors won the first meeting in December 93-79 in the Garvey Center.