FHSU Sports
HAYS – As they follow Fort Hays State University athletic teams around the country, it's not unusual for Ryan Prickett and Gerard Wellbrock to run into former co-workers who are FHSU graduates like themselves.
Prickett, sports information director at FHSU, and Wellbrock, radio voice of the Tigers, hit the jackpot this week. The duo is in Sioux Falls, S.D., covering the Tiger women's basketball team in the NCAA Division II Central Regional.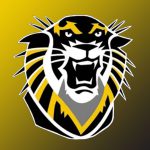 FHSU's first-round opponent today is Southwestern Oklahoma State University, which has not just one or two, but three Tiger alum representing the Bulldogs in the tournament.
Sporting the navy and white of SWOSU as the two teams were scheduled to meet in the noon contest were Doug Self, the Bulldogs' SID; Lacey Jones, a graduate assistant in the athletic training program in charge of working with the women's basketball team; and Mike Hammett, radio voice of the Bulldogs.
All three worked under Prickett during their college careers at Fort Hays State. Hammett then focused on broadcasting and worked for three years at Eagle Radio in Hays, where he learned under Wellbrock.
The group met for dinner Thursday night in Sioux Falls, and Prickett and Wellbrock weren't outnumbered. Accompanying Wellbrock, sports director for Eagle Radio, was Dustin Armbruster, another FHSU grad. Armbruster is KJLS program director at Eagle. He does play-by-play for Hays High School athletics and provides color commentary for Tiger broadcasts.
"I keep in touch with a lot of my former students who worked in our department at Fort Hays State, but it's always nice to get together with them in person," said Prickett, a two-time graduate of FHSU (2003 and '05) who is in his 13th year as the Tigers' SID.
While the six alums will be working for different schools today, there is a mutual respect among them.
"That doesn't really bother me, except I obviously want our team to advance," Prickett said. "I'm just really proud we have these individuals going out in the world and having success past Fort Hays State. Even though they don't all end up in the sports information field, you hope they have learned some life skills to take with them out into the world, too."
Jones said the variety of experience she received at FHSU has been invaluable as she pursues her master's degree in athletic training from SWOSU.
"Getting that experience under Ryan and in the athletic office was great, dealing with a lot of different people," said Jones, who came to FHSU from south central Kansas and graduated with her bachelor's degree in 2016. "I feel very equipped and very ready as an athletic trainer after getting all the hands-on experience, too."
Jones, who will graduate with her master's degree in May, said she has been looking forward to today's game and still follows the Tigers on the radio.
"You know you're a Tiger through and through when you listen to Gerard," Jones said. "He's such a great radio broadcaster and even if we open the video feed to watch the game, we mute the sound on it so we can listen to Gerard."
Others who have worked under Wellbrock and Prickett share the same high opinion of them.
Self grew up in northeast Kansas and came to Fort Hays State because "I'm a small-town kid and when I visited Fort Hays, I just had a really good feeling about it."
"Ryan is one of the hardest working guys out there, and I soon found out how well respected he is in his field," said Self, who graduated with a bachelor's degree in 2010, then earned a master's in sports administration in 2012.
"I sure learned the value of hard work," Self said. "He taught me how to deal with people and how to wear a lot of hats. I couldn't have found a more fitting career path for myself."
Armbruster, who grew up in WaKeeney and graduated from FHSU in 2004, had similar praise for Wellbrock.
"There's an opportunity to learn from every broadcaster you ever meet, the way you prepare to be on the air or act on the air or around coaches," he said. "Certainly, being around Gerard Wellbrock has elevated my level of professionalism with the industry."
Hammett, a 2008 Fort Hays State graduate, agreed.
"Gerard has been one of my biggest influences in the industry," said Hammett, now in his second year as sports director of in Wright Radio in Weatherford, Okla. "You can look at how I do things, and they are real similar to the way Gerard does it. I learned a lot from him – and from Ryan, too."
"I came to Fort Hays State because I learned you could get involved right away, different than at some larger schools," added Hammett, who graduated in 2008. "I actually wanted to be a sportswriter and stumbled into sports broadcasting, and I absolutely love it."
It's all about conducting yourself with professionalism every step of the way, said Wellbrock, who learned from one of the best. Wellbrock grew up listening to former Tiger broadcaster Bob Davis, who went on to become the voice of the University of Kansas Jayhawks.
Like Armbruster, Wellbrock – who grew up in Victoria – stayed close to home to go to college and graduated from FHSU in 1990. He has been at Eagle Radio since 1992, working his way up to Voice of the Tigers in 2002.
While their younger counterparts were busy giving Prickett and Wellbrock credit for teaching by example, they said it goes both ways.
"I thought I wanted to be a teacher when I came to college, but I have found this is more my calling," Prickett said. "I enjoy working around sports, but I also like teaching others what to expect once they go beyond these walls. I learn from them, too. I think we all learn from each other."
"I have a really good rapport with Dustin," Wellbrock said, "and when he is helping doing games, he makes me better. I broadcast better when he is working with me. During football season, someone told us that we look like we're having fun doing the games. And we do."