HIGHLAND – Isaiah Schmidt hit the game-winning shot to cap an exciting day at the 31st Northeast Kansas All-Star Games on Sunday.
Schmidt had 14 points for the Navy team, including a jumper with less than a minute remaining to put his team up, 83-82, in the boys basketball all-star game and the Navy team would hold that lead for the final over the Gold team.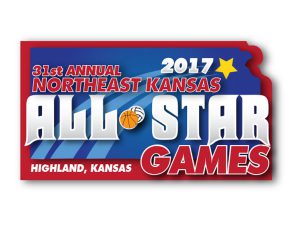 Cuttar Huss had a game-high 18 points in the win for the Navy team, while Will Bruna and Joseph Kunkle each had 12 for the Gold team.
Amanda Hill put in a game-high 22 points for the Navy team in the girls basketball as the Navy defeated the Gold, 105-67. Navy teammate Cassidy Haufler had 19 points.
Kaley Dalinghaus scored 18 points for the Gold team
And in the volleyball match, the Navy and Gold all-stars played to a 2-2 tie in four sets.
Hill was named the MVP for the girls' game, Huss for the boys' game and Sydney Prine for the volleyball game.
GIRLS BASKETBALL GAME
NAVY – Amanda Hill 22, Cassidy Haufler 18, Courtney Brockoff 13, Madison Blackburn 12, Faith Becker 9, Miranda Ohlde 9, Molly Kettler 6, Riley Doebele 4, Mallory Wagner 4, Mackinzie Gray 3, Jentry Seichepine 3, Courtney Boswell 2.
GOLD – Kaley Dalinghaus 19, Hana Ronnebaum 10, Annie Otott 6, Dakota McQueen 5, Mia Scott 5, Shey Duer 4, Jenna Hennerberg 4, Lauren Huber 3, Rayme Butts 2, Grace Kuenzi 2, Kayla Lane 2, Blair Weishaar 2, Anna Buessing 1.
BOYS BASKETBALL GAME
NAVY – Cuttar Huss 18, Dillon Blain 16, Isaiah Schmidt 14, Dylan Enneking 7, Nate Beck 6, Dawson Miller 6, Reid Greaser 5, Adam Lindhorst 4, Ben Kufahl 3, Bryson Patch 2, Landon Parsons 2.
GOLD – Will Bruna 12, Joseph Kunkle 12, Sean Nordberg 11, Ryder McAlexander 9, Nick Malloy 7, Wyatt Olderbing 7, Matt Barnes 6, Braden Pfan 6, Michael Jueneman 5, Logan Woodyard 5, Trevor Taylor 2.