Shiloh's Serves the Best Cleveland Breakfast
Shiloh's in Cleveland, Oklahoma, is the best spot in town for a good breakfast.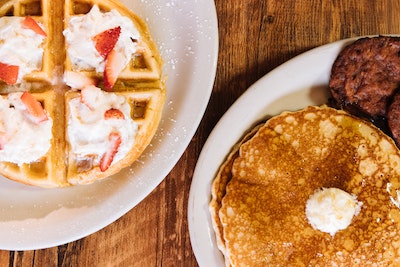 You don't even have to stop by in the morning to try our tasty dishes, because the Shiloh's breakfast menu is available all day long.
Whether you're looking for a tasty way to start your day or are craving breakfast for dinner, try one of Shiloh's hearty omelet or pancake meals, or stick with a simple homemade cinnamon roll and cup of coffee.
If you're in search of lunch or dinner, Shiloh's has you covered there as well. From comfort food favorites like chicken and dumplings to soups, salads, and sandwiches, there's something for everyone at Shiloh's. Even kids can choose what they want to eat from a menu curated just for them.
Everything in the restaurant is made from scratch and is based on generations-old family recipes, so you know you're getting nothing but the best when you choose Shiloh's.
Start your meal with an appetizer like fried green tomatoes or onion rings, and wrap it up with a slice of homemade pie or a scoop of cobbler. If just one piece isn't enough, you can order a whole pie, cake, or cobbler to take home with you as well. The flavors rotate regularly, so make sure you try them all.
Areas of Focus
Besides serving the best Cleveland breakfast, Shiloh's provides several additional services to the community.
Catering
Dine-In
Takeout
Online Ordering
Learn More About Shiloh's in Cleveland
Shiloh's
50160 Highway Dr, Cleveland, OK 74020
(918) 358-5815