FHSU Sports
Ryan Prickett, Sports Information Director
HAYS – Fort Hays State, ranked No. 16 in NCAA Division II, claimed the Kansas Cup for the fourth year in a row on Sunday (Jan. 22). As a team the Tigers produced 158 points, 45.5 more than second-place Newman University (112.5) and 51.5 more than third-place Barton (Kan.) Community College.
In the individual standings the Tigers pushed seven of their ten wrestlers into the finals and all ten placed. Claiming individual titles for FHSU were No. 10 ranked Brandon Ball (141), Greg Tooley (157), Rakim Dean (184) and No. 2 ranked Jon Inman (197). Finishing runner-up wereConrad Cole (125), Matt Mejia (133) and No. 9 ranked Christian Lance (285). Also placing for the Tigers were Jacob Kay (149) who took sixth, Kalin Collins (165) who finished third, and Micquille Robinson (174) who took fifth.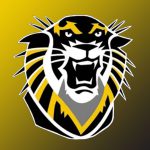 The redshirt-freshman Ball continued to stay hot for the Tigers and showed why he is one of the top wrestlers at 141 pounds this year with a 3-0 day. After a bye in the first round, Ball went on to pin his next opponent and then record a technical fall to punch his ticket to the finals. There he met with Colby (Kan.) Community College's Chris Deters, whom he got the better of in a 13-1 major decision. Ball moved to 26-4 overall, claiming his first Kansas Cup crown.
Tooley improved to 16-2 overall after going 4-0 on the way to his first Kansas Cup title. He did it in pure dominance as all four of his wins came via technical falls including a 21-6 performance over Kansas Wesleyan's Ty Wilson in the finals.
Dean, like Ball, went 3-0 on his way to victory at 184 pounds and improved his record to 22-11 this season. He started the day off with a technical fall then followed that with a pin in the semifinals. In the finals Dean took full control over Labette (Kan.) Community College's Tristan Ramberg and walked away with a 12-1 major decision.
In his first time wrestling since December 3, Inman reminded the wrestling world why he is considered the No. 2 wrestler at 197 pounds as he picked up his second consecutive title at the Kansas Cup. Inman started the day with back-to-back pins, in the quarterfinals and semifinals, to find himself facing off with MIAA foe Dalton Weidl of Newman in the finals. After surrendering an early takedown, Inman got it going and earn his third pin of the day 35 seconds into the second period.
The freshman Cole found himself in the finals after a pin and major decision in the first two rounds. Waiting for him was the No. 1 seed in the 125-pound bracket, Newman's Dustin Reed. Cole fought hard for the first four minutes but a wrong turn found him on his back and a pin was awarded to Reed at the 4:07 mark.
Another freshman, Meija was on fire out of the gate pinning his first two opponents in a combined time of 2:09. From there he punched his ticket to the finals with a technical fall. In the finals, Mejia battled hard with Colby Community College's Otis Rollins and almost had a late escape in the third to tie the match, but fell just short in a 10-9 decision.
Lance, who is the team leader in wins this season increased his record to 34-4 on the season with his 3-1 second place finish. The ninth-ranked wrestler at 285 pounds started quickly with a pin in the first round and back-to-back major decisions in the following two. In the finals he met Northwest Kansas Tech's Odgerek Batkhishig. Batkhishig was keeping his distance from Lance the entire match and chose to take his shots wisely and managed to pick up the 8-6 decision.
Overall Inman led the Tigers on scoring with 20.0 team points, followed closely by Ball who had 19.5. Tooley, Dean, Mejia and Cole all generated 18.5.
The Tigers get back into dual action when they head to Wichita to take on Newman on Wednesday (Jan. 25). The wrestling is scheduled to begin at 7 pm.