The MIAA released its all-conference women's basketball team on Tuesday.
Emporia State's Kelly Moten has been named both the MIAA Player of the Year and MIAA Defensive Player of the Year as she earned first team honors for the third time.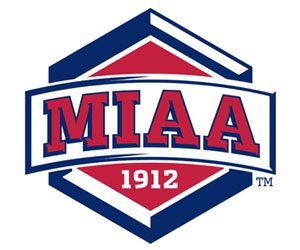 Pittsburg State's Lane Lord was named the MIAA Coach of the Year after leading his team to their first MIAA regular season title since 1996.
Player of the Year
Kelly Moten, G, Sr., ESU
Defensive Player of the Year 
Kelly Moten, G, Sr., ESU
Freshman of the Year
Kallie Bildner, F, Fr., LWU
Coach of the Year 
Lane Lord, PSU
All-MIAA First Team 
Kelly Moten, G, Sr., ESU**[r3]
Mikaela Burgess, Jr., G, PSU**[r2]
Paige Redmond, So., G, UCM**
Melinda Murillo, Jr., G, UCO
Chelsea Dewey, Sr., G, MWSU
**Unanimous Selection
[r2] Two time repeat First Team Selection
[r3] Three time repeat First Team Selection
All-MIAA Second Team
Megan Rosenbohm, Jr., G, SBU
Deb Holcomb, Sr., G, MSSU
Kathryn Flott, Sr., F, ESU
Tanya Meyer, Jr., F, NWMSU
Alyxis Bowens, Sr., F, WU
All-MIAA Third Team
Hadyn Herlocker, Sr., G, PSU
Michaela Barry, Jr., G, UNK
Addie Lackey, Jr., G, ESU
Rylie Torrey, So, G, NSU
Jesheon Cooper, Jr., C, UCO 
All-MIAA Defensive Team
Kelly Moten, Sr., G, ESU
Paige Lungwitz, Sr., G, PSU
Kayonna Lee, Jr., F, UCM
Sefulu Faavae, Sr., F, MWSU
Jesheon Cooper, Jr., C, UCO
All-MIAA Honorable Mention 
Kayonna Lee, UCM
Megan Skaggs, UCM
Marley Anderson, UCO
Olivia Mason, UCO
Carly Heim, FHSU
Jill Faxon, FHSU
Nikola Kacperska, FHSU
Tatyana Legette, FHSU
Hunter Yoakum, LU
Kallie Bildner, LWU
Desirea Burge, MSSU
Dwanisha Tate, MWSU
Sefulu Faavae, MWSU
Cailyn Long, NSU
Jasmin Howe, NWMSU
Madison Northcutt, PSU
Shelby Lopez, PSU
Paige Lungwitz, PSU
Caylee Richardson, SBU
Erika Lane, WU