Stu-B-Que Makes the Best Broken Arrow BBQ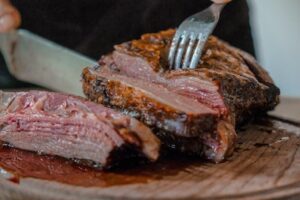 BBQ is a versatile entree which can be the main staple of a tailgate party of family reunion, or it can be the main dish at a wedding celebration. Either way, just about everyone loves a good BBQ sandwich! When it comes to finding the best Broken Arrow BBQ, look no further than Stu-B-Que, an event caterer who also provides family meals and plates for pick up.
Stu-B-Que has been providing the Green Country region with delicious BBQ for years. This catering company is owned and operated by Stu Conrad, who is dedicated to providing you with great food on time. If you're looking for a caterer, Stu is easy to work with and reliable; you'll never have to worry that he won't be there on time!
Areas of Focus
Besides BBQ, Stu-B-Que is widely known for their slow-cooked meat choices, all cooked and seasoned to perfection. If you're looking for good ol' southern cooking, you will not be disappointed with Stu-B-Que. No matter how big or small your event is, you can trust that Stu and his team will put the same amount of love and care into the food the prepare. Here is a list of common events they cater:
WEDDING CATERING
BBQ CATERING
PHARMACEUTICAL CATERING
CORPORATE CATERING
TULSA REHEARSAL CATERING
TAILGATE CATERING
BANQUET CATERING
PARTY CATERING
LUNCH CATERING
TULSA LUNCH CATERING
FOOD TRUCK CATERING
When you work with Stu-B-Que, you will not be disappointed. Just thinking about it makes my mouth water. The meal is just about one of the most memorable aspects of any event; the food will be talked about for years to come, so you want to make sure it's good! Guarantee your guests' comfort by hiring Stu-B-Que as your caterer!
Business Information
Stu-B-Que
(918) 724-7886
4920 E Kenosha St Broken Arrow, OK 74014