Friends Athletics
WICHITA – For the second straight week and third time in her career, Friends University junior pitcher Laila Spracklen has received the KCAC's top weekly pitching award, the conference office announced Monday.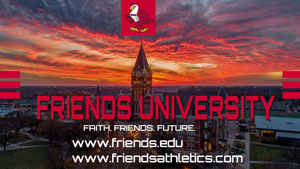 Spracklen's breakout season has exploded, as the San Diego, Calif. native was a perfect 3-0 on the week to lead the Falcons to five wins in six outings.
She averaged a whopping 9.45 strikeouts per seven innings, including 10 punch-outs in a 9-1 win over Saint Mary. Spracklen also recorded a minuscule 0.35 ERA in her 20 innings in the circle and she has now reached double-digit strikeouts three times this season, including a career-high tying 11 on two occasions.
For the season, Spracklen is first in the KCAC in strikeouts (149), tied for first in wins (12) and fourth in ERA (2.47).
Her contributions to the team's success continue to not be limited to the circle, as Spracklen hit a robust .474 at the plate while slugging three homers and driving in eight runs. She is now second on the team and tied for second in the league with seven homers overall on the season.
"I'm just so proud of her and how far she has come this season!" said Friends softball head coach Suzanne Unruh. "She has really stepped up and gained so much confidence!"
Now 18-17 overall and 9-7 in the KCAC, Spracklen and the Falcons will host York College tomorrow afternoon (Apr. 12) at 3 pm at Two Rivers Youth Complex.