Newman Sports
David Rung, Sports Information Director
CLAREMORE, Okla. – Getting another stellar offensive effort, the Newman softball team wrapped up its second straight series win in Heartland Conference play, earning an 8-4 victory over Rogers State Friday afternoon.
The Jets (13-31, 7-8 Heartland) earned two straight wins after falling in the series opener against the Hillcats (26-18, 5-10 Heartland), a crucial close to the set as Newman attempts to stay in the conference tournament race.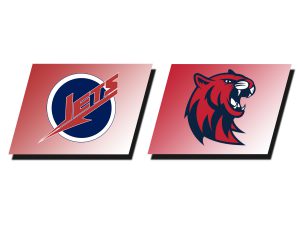 Newman uncorked double-digit hits for the second game in a row, knocking 13, as four different Jets had multiple hits. Erin Jankiewicz led the charge, going 4-for-4 with a second-inning grand slam that boosted the guests into the lead for good.
An infield single with two outs from Ariole O'Neal gave the Jets the lead in the top of the first. RSU answered to tie it in the bottom half, but for the second straight day, Newman put up five runs in a frame.
Bayley Horsch and Delaney Hiegert got the second inning started with singles, and Mikayla Medbery pushed Newman back in front with a single to right to plate Hiegert. Jankiewicz followed with her big fly to left to make it 6-1.
The Hillcats added their own three-run homer in the third to make it a two-run game once again, but Taylor Mannis chipped in with a big two-out double in the top of the fourth, scoring a pair to increase the lead to 8-4 and provide some insurance.
A pair of hits and a walk in the fifth loaded the bases for the Jets in the fifth, but they were unable to score. Starter Kate Smith got out of a jam of her own in the bottom half, scooping up a groundout herself to strand a pair. The first two RSU batters of the seventh also reached, but a double play erased one runner, and Smith struck out the game's final batter to preserve the win.
Horsch, Hiegert and Alyssa Taylor each had two hits for the Jets. Smith picked up her second win of the weekend, working around nine hits and four walks to strike out three.
Newman heads to Fort Hays State for a nonconference doubleheader Wednesday before coming home for a three-game set against St. Edward's.